<![if !IE]> <![endif]>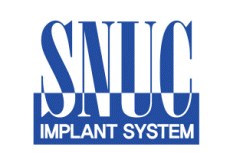 SNUCONE.CO., LTD
75gil Seongseo-ro 5, Dalseo-gu
42703 Daegu
Korea, Süd
+82 535927525

+82 535927524

Produktgruppenverzeichnis
Produktgruppenverzeichnis
Dieser Aussteller zeigt folgende Produktgruppen und Produkte:

Pressemitteilungen
Pressefach wird geladen...
Unternehmen und Produkte
Unternehmen
Unternehmensprofil
Company portrait
Snucone Implant, The most ideal surface treatment by technology tie-up with German partner.

Since establishing Jinhung Dental Industry in 1997, Snucone Implant has committed its best endeavors into innovative development of dental alloy manufacture technology, improvement of product systems, development of diverse products, and production of quality products. The company has also performed continuous R&D activities with the priority on 'Realizing Customer Satisfaction' for executing powerful activities nationally and abroad, and continuous growth.

In 2005, Snucone launched a new business of dental implant, and entered technology tie-up agreement with a German company for SLA (Sandblasting with Large grit and Acid etching), the most ideal surface treatment technology for implant. Snucone produces high quality dental implants to drive fast osseointegration through minimal bone resorption by integrating excellent technology of German company and production competence of Korea. The company has expanded number of countries for exporting by entering contracts with companies in China, Russia, Middle East countries and several other Asian countries. Snucone Implant will be a world-recognized company supplying quality products.

Snucone has insisted on authentic S.L.A surface treatment for more than 15 years, and the results show great osseointegration that is not inferior to any other global brands with over 30 years of clinical data. From the EDS, it is detected only C,N,O,Ti on the surface of the fixture and its shows the superior technology of surface treatment and cleaning system of the Snucone. S.L.A surface treatment, as you know, is one of surface treatments constantly quoted in renowned academic journals in the world and a technology that improves success rate of operation and fast and strong joint with bones by machining implants in shape most similar to bones.
Produkte
Abiding Fixture +II (AF+II) and Abiding Fixture +B (AF+B)
Abiding Fixture +I (AF+I)
Abiding Fixture S (AFS)
Classical Abiding system (Solo Abutment & Couple Abutment)
Multi Unit (Screw abutment & Flat abutment)
Hive System
D-One Kit
Snucone Fully Guide Kit
Snucone Abiding Bone Profiler Kit
Universal Kit
Veranstaltungen
Events
Datum
Speaker

SNUCONE.CO., LTD

Produkte und Anwendungen im Praxisalltag


22.09.2021 | 15:30-15:45 Uhr

weitere