<![if !IE]> <![endif]>

GENTILIN SRL
Strada delle Tezze 20/22
36070 TRISSINO (VI)
Italien
Produktgruppenverzeichnis
Produktgruppenverzeichnis
Dieser Aussteller zeigt folgende Produktgruppen und Produkte:

Pressemitteilungen
Pressefach wird geladen...
Unternehmen und Produkte
Unternehmen
Unternehmensprofil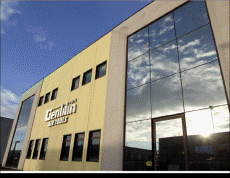 Company portrait
HUMBLE BEGINNINGS. Gentilin srl was founded 40 years ago in Trissino (Vicenza - Italy), a region particularly known in Europe and throughout the world for its superior standards in mechatronics. In just a few years, the company became a benchmark of excellence for the manufacturing and development of compressed air products. Brothers Giampaolo and Giuseppe Gentilin started in 1980 producing compressed air fittings from their garage. Distribution was initially in Italy and soon after throughout Mediterranean Europe where the Gentilin brothers got to know the peculiar needs of a large compressed air market. Having further diversified the product offering, in 2005 they launched the first line of compressors in the world conceptually developed to work without the need of lubricants. This fundamental milestone became a launching pad for the company in international markets.

GENTILIN TODAY. The determination of the Gentilin brothers resulted in an important outcome. The company evolved in recent years and onboard are now Alessandra, Giorgio and Riccardo Gentilin, the executive team handling strategy and day-to-day management. The energy and exhuberance of the second generation have brought a fresh managerial approach to best practices. More importantly, they have taken the legendary focus on research and development to the next level. The company has further consolidated its market presence and has succesfully ventured into new segments. Making zero compromises, the result is a range of unique products and services, especially designed for the professional user.
Produkte
MEDICAL OIL-FREE PISTON COMPRESSORS
MEDICAL OIL-FREE SCROLL COMPRESSORS
ENVIRONMENTAL DISINFECTION SYSTEMS
COMPRESSED AIR TREATMENT
OIL-FREE PISTON AIR-ENDS