<![if !IE]> <![endif]>

Shiva Products
214 Bluebell Indl. Estate Chinchpada, Vasai (E)
401208 Thane
Indien
Produktgruppenverzeichnis
Produktgruppenverzeichnis
Dieser Aussteller zeigt folgende Produktgruppen und Produkte:

Pressemitteilungen
Pressefach wird geladen...
Unternehmen und Produkte
Unternehmen
Unternehmensprofil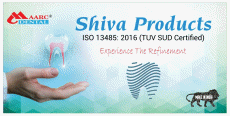 Unternehmensportrait
Established in the year 1998, Shiva Products is now an eminent EN ISO 13485:2016 certified (by TUV SUD, Germany), EC Directive 93/42/EEC and WHO-GMP Compliance company with more than two decades of experience in the industry. We are proud to be recognized as a renowned manufacturer and exporter of premium quality Dental Consumables and product ranges like Endodontics, Prosthodontics, Ortho, Restoratives,Waxes, Acrylics etc under the brand name "MAARC" which are specifically made according to international quality standards.
Shiva Products has become one of the leading manufacturers in Domestic and International Market. The strong relationship and the trust of our business partners and dental professionals built over two decades of operations in India has made 'MAARC' a trusted Brand.

Dental Segment
Domestic: We are currently selling to approx. 1000-1200 Distributors / Dealers (in many states of India), approx. 500- 600 Laboratories within Mumbai 4000-5000 dentists are catered directly / through distributor/dealer network through our company within Mumbai + Institutional supply + government Tender supply.

International Market: We are currently exporting to approx. 40+ countries across various continents.

Our Vision
"TO ALWAYS REMAIN THE MOST TRUSTED BRAND IN DENTAL PRODUCTS"
We are led by a global vision and a drive to manufacture various dental consumables comparable to international standards so as to offer customer satisfaction.

LOOKING FOR PARTNERS:
We are always looking for reliable partners to expand our international reach and meet our GOAL. Interested Importers / Distributors are always welcome to approach us to become a part of our MAARC Network. Do get in touch with us for further Business potential and great Opportunity.
Produkte
Maarc Calx-O, Calahyd-RC, Calcium Hydroxide Powder
Maarc Endo Paste (17% EDTA + Carbamide Peroxide)
Maarc Gsol (Gutta Percha Solvent)
Maarc T-Fill (Temporary Filling Material)
Maarc ETC-37 (Etching Materials-37% Phosphoric Acid)
Maarc Ziego Kit (Zinc Oxide-Eugenol Kit)
Zirprophy
Bite Registration Wax
Sealmax–R
Maarc MTA